Part 12 of

Wonders of World Aviation

was published on Tuesday 24th May 1938, price 7d.


This part included a central photogravure supplement showing South African airports. This section illustrates the article on South Africa's Air Routes. The final photogravure illustration begins the article on How Maps Are Made.


The Cover
Our cover picture this week shows a Supermarine Walrus being lifted into HMS "Devonshire". The Supermarine Walrus type of single-engined amphibian was designed for fleet-spotting work, and was adopted by the Admiralty for use in the Fleet Air Arm in 1935. These aircraft have a length (on chassis) of 37 ft 7-in and a span of 45 ft 10-in. The engine is a Bristol Pegasus VI.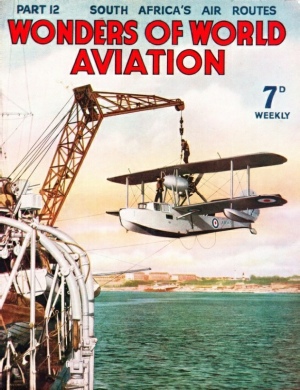 Contents of Part 12


(Part 2)








South Africa's Air Routes:
Photogravure Supplement - 2


AIRCRAFT IN FRONT OF THE BUILDINGS AT THE RAND AIRPORT. With the completion of work on this airport, the total cost is estimated at £400,000. Within the circular concrete parapet is a large clock; its face and hands are specially designed to be easily read from the air. The waiting aeroplanes are two Junkers three-engined machines and an Airspeed Envoy.
How Maps Are Made:
Photogravure Supplement


A GEOLOGICAL SURVEY of Qishm Island, in the Persian Gulf, necessitated the taking of sixty photographs to form a mosaic of the area. The remarkable circular formation shown in this picture is a salt plug of Cambrian age intruding as a cylinder through the normal strata of Miocene-Pliocene beds. The plug itself has a diameter of about fourteen miles. The black area is the sea.
South Africa's Air Routes:
Photogravure Supplement


PASSENGERS BOARDING ONE OF THE JUNKERS AIR LINERS of South African Airways. This picture shows the corrugations on the metal covering of the wings. These corrugations assist in stiffening the wings against torsion. A flap runs along the length of the trailing edge of wither wing, and is so mounted that it gives a double-wing effect. It can be sued to vary the camber of the wing and thus increase the lift.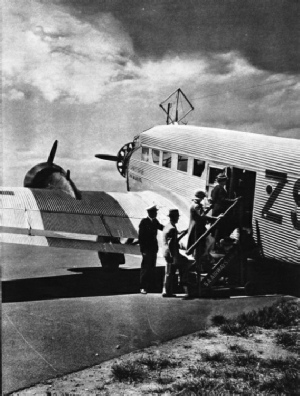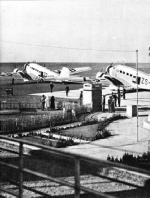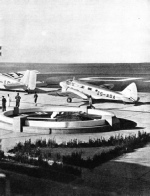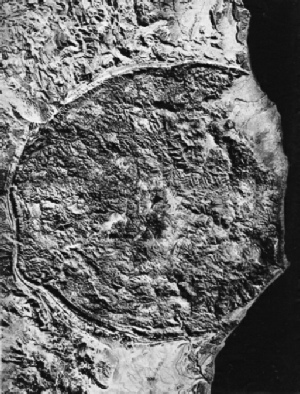 Contents of Part 12


(Part 1)