Part 14 of

Wonders of World Aviation

was published on Tuesday 7th June 1938, price 7d.


This part included a central photogravure supplement showing French air services. This section illustrates the article on World-Wide French Services.


The Cover
Our cover picture this week shows

Mercury

, the top component of the Short-Mayo composite aircraft, in flight during its tests at Rochester, Kent. Normally this seaplane will be so heavily loaded that it will require the aid of

Maia

, the lower component, to assist it into the air.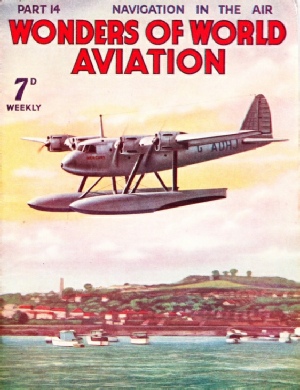 Contents of Part 14


(Part 2)








World-Wide French Services

(photogravure supplement)


World-Wide French Services: Photogravure Supplement - 2




HIGH-WING, TWIN-ENGINED BRACED MONOPLANE of the type used on the services between Paris, Lyons, Marseilles and the French Riviera. Until their replacement by Dewoitine 338s, they were used on the Far East service. This Potez 62 aircraft, which is named

Cigogne

(Stork), has two Gnome-Rhone 14Kirs fourteen-cylinder radial engines, which are air-cooled and supercharged. The

Cigogne's

span is 73 ft 7½-in, her length is 56 ft 9½-in, and her height 12 ft 9-in. The wing area is 818 square feet. The weight loaded is 16,500 lb. Maximum speed at 6,560 feet is 202 and cruising speed at the same height 174 miles an hour. The normal range is 620 miles.
World-Wide French Services:
Photogravure Supplement


CONTROL TOWER AT LE BOURGET AIRPORT, Paris. From Le Bourget Air France, either independently or in conjunction with other companies, operates services in many directions. North-west, north and east, the air lines reach London, Brussels, Rotterdam and Amsterdam, Cologne and Berlin. Strasbourg and Prague - for Warsaw or for Vienna, Budapest, Belgrade and Bucharest. Going south are the trunk line to Marseilles - for Cannes, North Africa and for the Levant and the Far East.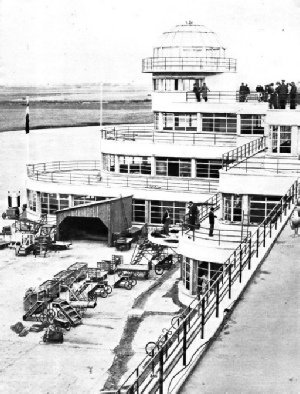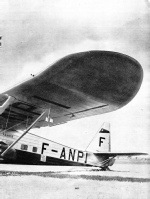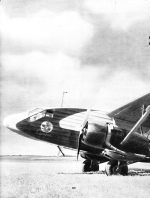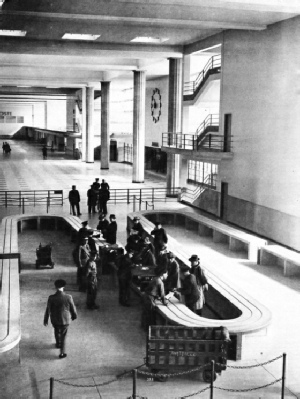 World-Wide French Services:
Photogravure Supplement - 3


EXAMINATION OF PASSENGERS' BAGGAGE at Le Bourget Airport. Customs examinations at airports are carried out with a minimum of inconvenience to the passengers, as there is no crowding such as is often experienced in ordinary custom offices and sheds. The new buildings of Le Bourget Airport were opened in November 1937.