Part 15 of

Wonders of World Aviation

was published on Tuesday 14th June 1938, price 7d.






The Cover
Our cover illustration this week shows German military biplanes lined up on their aerodrome.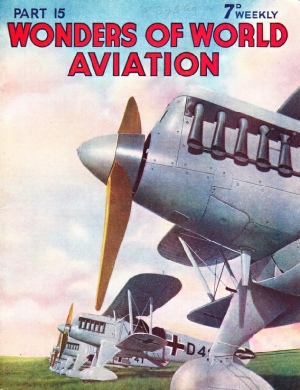 Contents of Part 15


Blind Flying
(colour plate)


Pilot's Cockpit Equipped for Blind Flying


PILOT'S COCKPIT of a Tiger Moth equipped for blind flying. The upper three instruments are engine revolution counter, turn indicator and air speed indicator. Below, from left to right, are clock, inclinometer, compass, altimeter and engine oil-pressure gauge. The longer of the two ball-topped levers to the left of the picture is the throttle, and the shorter the mixture control for use when flying high. The label to the left of the turn indicator reads: "Start engine on front switch only. Try engine on both magnetos before taking off". On the label to the right of the turn indicator are the words: "Gipsy Major. Warm up engine for 4 mins at approx. 800 rpm. Then for not more than 10 secs full throttle to test full rpm. Oil pressure normal 40-45 lb. Min. 35 lb. Never use mixture control to cause drop in rpm. Cruising rpm 1,900-2,050. Normal full rpm 2,100, Max permissible for not more than five minutes 2,350 rpm." Of the three labels below the compass, the centre one is the same as the one to the right of the turn indicator, the one on the left has the aircraft maker's name and number of the machine, and the one to the right has the words: "Brooklands Aviation, Ltd, Brooklands Aerodrome, Byfleet, Surrey" the owners of the aircraft.