Part 34 of

Wonders of World Aviation

was published on Tuesday 25th October 1938, price 7d.


This part included a

colour plate

showing a Boeing B-17B bomber. This was one of the illustrations in the article on The United States Air Force.


This illustration had previously appeared as the cover design of Part 19.


The Cover
This week's cover shows one of British Airways' Lockheed Electra air liners at Croydon.


An article on British Airways appeared in Part 25.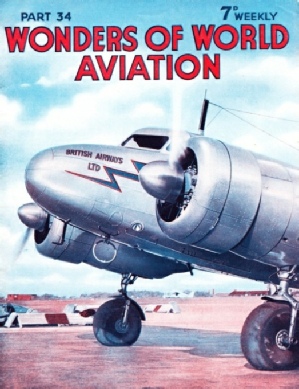 Contents of Part 34


Triumph and Tragedy in the Arctic

(Part 2)




Overseas Air Fleets


Construction of Rigid Airships


Poland's Achievement


The United States Air Force


Boeing B-17B Bomber
(colour plate)


Boeing B-17B Bomber


A FOUR-ENGINED BOEING B-17B BOMBER of the United States Army. These aircraft are noteworthy for their performance when carrying heavy loads. They have a top speed of over 250 miles an hour, carry a crew of nine and have five machine-guns. One gun position is in the nose and the other four positions are in the form of "blisters" in the sides, top and bottom of the fuselage. Four 1,0000 horse-power radial air-cooled Wright Cyclone engines are fitted which dive three-bladed constant-speed propellers. Split trailing-edge flaps, and retractable type undercarriage are used. The wing span is 105 feet, the length 70 feet and the height 15 feet.


This colour plate previously appeared as the cover design to Part 19.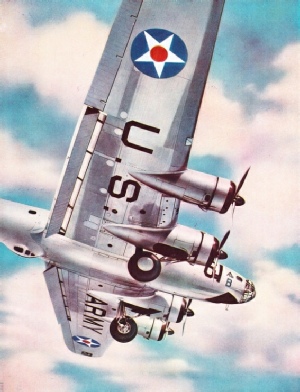 Contents of Part 34


Holland's Famous Designer-Pilot

(Part 1)