Part 37 of

Wonders of World Aviation

was published on Tuesday 15th November 1938, price 7d.


This part included a

colour plate

showing Fighter Squadron Markings. This was one of the illustrations in the article on Air Defence Cadets.


The Cover
The cover on this week's Part shows one of the flying boats built by the Consolidated Aircraft Corporation for the United States Navy. As explained in the chapter "Patrol Boats of the Air", which appeared in Part 35, Consolidated flying boats are built at San Diego, Califormnia, close to the United States naval base there. Final assemblies of these boats take place on large paved yards adjoining the San Diego factory. US Navy test pilots take over the flying boats after final assembly.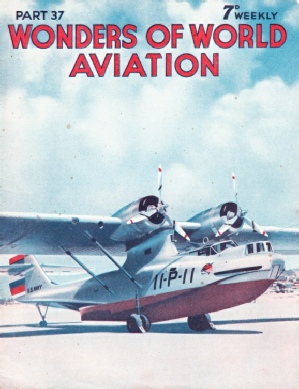 Contents of Part 37


Pageantry in the Air

(Part 2)


Air Defence Cadets


Fighter Squadron Markings
(colour plate)


Fighter Squadron Markings


FUSELAGE MARKINGS are shown in this colour plate, but the designs are repeated on the top planes as well (see inset picture). In some instances the design tapers with the fuselage to a point. The three designs in the bottom row are of Auxiliary Air Force squadrons. The coloured tailplane and fin of the Hawker Fury in the inset picture denote a flight commander of No. 25 Squadron. The lower aircraft is a Gloster Gauntlet of No. 19 Squadron.