Part 6 of

Wonders of World Aviation

was published on Tuesday 12th April 1938, price 7d.


This part included a central

photogravure supplement

showing the Fleet Air Arm. This section illustrates the article on The Fleet Air Arm.


The Cover
The cover this week, the original of which comes from

Flight

, shows a production Fairey Battle during its acceptance tests.
An article on The Work of the Test Pilot appears in Part 4, with a similar photograph in black and white.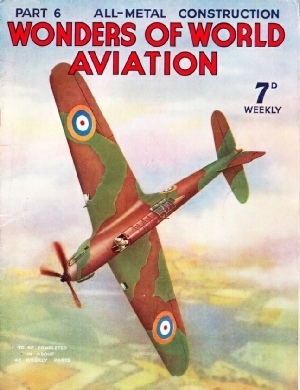 Contents of Part 6


(Part 2)






(photogravure supplement)


The Fleet Air Arm:
Photogravure Supplement - 2


A TAKE-OFF FROM THE DECK OF HMS

COURAGEOUS

, which was converted to an aircraft carrier in 1928. The machine is a Blackburn Shark torpedo-bomber-reconnaissance biplane. During take-offs and landings, an aircraft carrier steers directly into wind to keep as low as possible the speed of the aircraft in relation to the deck. The jet of steam, by which the ship's navigator keeps a check on the wind direction, is visible below the machine in the picture.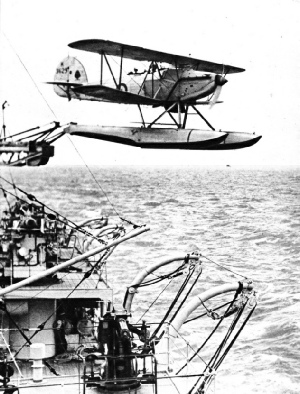 The Fleet Air Arm


Photogravure Supplement


A HAWKER SEAPLANE LEAVING THE CATAPULT of HMS

Sussex

. The aircraft is attached to a carriage on the catapult, and the engine is run up to full speed. At a signal from the pilot the carriage is shot along its runway of seventy to ninety feet by a charge of cordite. When the carriage reaches the end of the runway, it releases the aircraft, which shoots off into the air at flying speed.


You can read more about seaplanes in Part 2.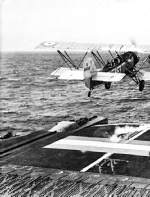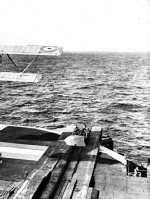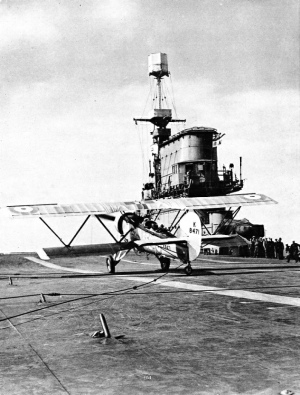 Fleet Air Arm:


Photogravure Supplement - 3


CABLES PULL UP THE AIRCRAFT after it has landed on the deck of an aircraft carrier. A steel pick-up hook, underneath the fuselage of the aircraft, picks up one of the transverse cables as the machine comes in to land. The cables are attached to hydraulic control mechanisms below the deck. The height of the cables, when set for landing purposes, is fifteen inches; by means of the hinged posts carrying the cables, they are laid flat on the deck for take off.
Contents of Part 6




(Part 1)