Part 8 of

Wonders of World Aviation

was published on Tuesday 26th April 1938, price 7d.




The Cover
Our cover photograph this week shows the nose of one of the Swissair liners. It is an American Douglas machine. Powerful lights are fixed in the nose of the machine to assist the pilot when he is making landings at night.
This illustration later appeared as the colour plate with Part 23.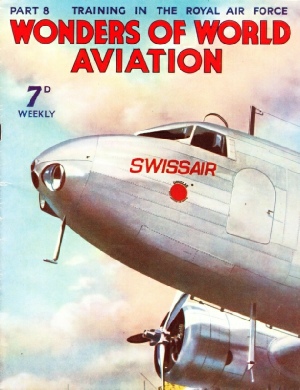 Contents of Part 8


(Part 2)










Ranks, Badges and Flags of RAF Officers
(colour plate)


Key to the colour plate:


1. Marshal of the RAF; 2. Air Chief Marshal; 3. Air Marshal; 4. Air Vice-Marshal; 5. Air Commodore; 6. Group Captain; 7. Wing Commander;
8. Squadron leader; 9. Flight Lieutenant; 10. Flying Officer; 11. Pilot Officer; 12. Flight Lieutenant Full Dress (other officer ranks similar for full dress); 13. Officers of Air Rank;
14. Group Captain; 15. All other officers (for walking out and ceremonial);
16. Forage or Field Service Cap;
17. Officers of Air rank; 18. Officers below Air Rank; 19. Full Dress Tropical Hat (worn by Air Officers Commanding - serving abroad); 20. Full Dress Hat (all ranks); 21. Chaplain's Cap badge;
22. Pilot's Badge; 23. Fleet Air Arm badge (worn on sleeve above ranking stripes); 24. Medical Officer's Collar Badge; 25. RAF Ensign; 26. Marshal of the RAF; 27. Air Chief Marshal; 29. Air Vice-Marshal; 30. Air Commodore;
31. Group captain; 32. Wing Commander; 33. Squadron Leader.


Note - Although the Fleet Air Arm has been taken over by the Admiralty flying personnel will continue to be drawn from the Royal Air Force for a time, and this badge is still being worn.
Contents of Part 8
(part 1)