© Wonders of World Aviation 2015-20
Part 26 of

Wonders of World Aviation

was published on Tuesday 30th August 1938, price 7d.


This part included a central photogravure supplement further illustrating the article on Aircraft Maintenance.


The Cover
Our cover picture this week shows the tailless Pterodactyl aeroplane undergoing tests at Yeovil, Somerset. This design, invented by Captain G. T. R. Hill, was evolved to give better stability than is inherent in the standard type of aeroplane and to avoid the dangers of stalling.


This illustration was later used as the colour plate in Part 39, forming part of the article on Unconventional Aircraft.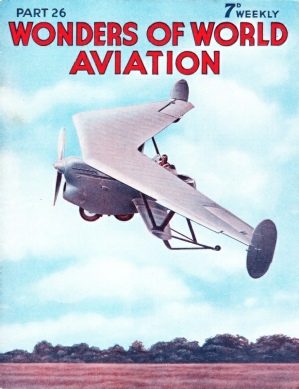 Contents of Part 26


(Part 2)


Reaction Propulsion




Aircraft Maintenance


Aircraft Maintenance
(photogravure supplement)
Aircraft Maintenance:
Photogravure Supplement 1


THE OVERHAUL OF A LANDPLANE used by Imperial Airways is carried out in hangars at Croydon Airport. One hangar is devoted to complete overhauls and another to maintenance work. The engines for landplanes and flying boats all receive their complete overhauls at Croydon.
Aircraft Maintenance:
Photogravure Supplement - 3


EVERY INCH OF THE HULL IS CAREFULLY SCRUTINIZED when a flying boat is overhauled. This scrutiny is conducted from inside and also from outside. Each rivet has to be checked for tightness and the exterior is examined minutely for dents or scratches that might have removed the protective covering of the metal. This covering prevents corrosion, which would otherwise occur rapidly due to the effects of salt water and air.


Aircraft Maintenance:
Photogravure Supplement - 2


THREE PAIRS OF WHEELS are attached to the hull of a flying boat to enable the aircraft to be pulled out of the water and up the slipway. Two of these pairs are arranged, one on either side of the hull, by means of anchoring points on the hull and wings; the third pair of wheels is fixed by a cradle to the back end of the hull. These back wheels can be steered to enable the flying boat to be manoeuvred into any position.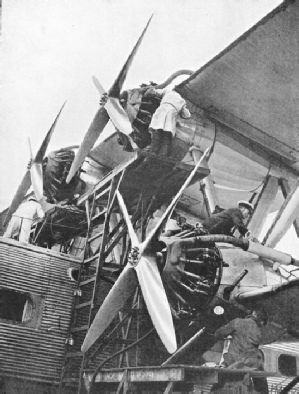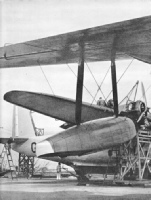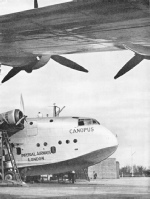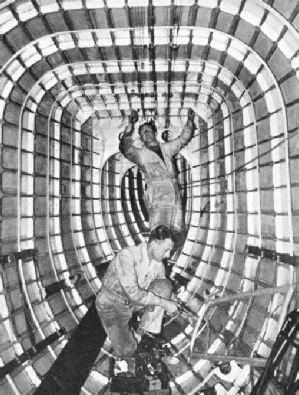 Contents of Part 26








Great Air Experiments
(Part 1)