Part 39 of

Wonders of World Aviation

was published on Tuesday 29th November 1938, price 7d.




The Cover
The cover on this week's Part shows a four-engined De Havilland Express Air Liner belonging to Qantas Empire Airways, Ltd. This Australian company uses Express Air Liners between Darwin and Brisbane, and flying boats for the Singapore-Sydney service.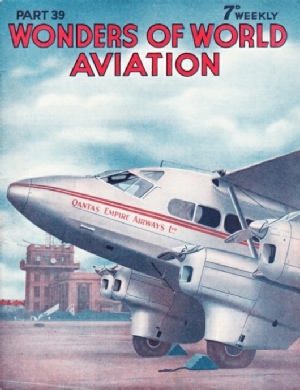 Contents of Part 39


(Part 2)




(colour plate)




Unconventional Aircraft


A TWO-SEAT PTERODACTYL AIRCRAFT of fighter type powered by a water-cooled engine driving a tractor propeller. The first tailless aircraft was produced by J. W. Dunne in Scotland in 1911 and was successfully flown, After this the tailless aircraft was neglected until 1926, when Captain G. T. R. Hill produced his first tailless aeroplane. This first Pterodactyl was a single-seat light aeroplane driven by a pusher airscrew. The aileron controls of a Pterodactyl can be used in unison when it is desired to make the aircraft climb or dive. An American design of tailless aircraft has one semicircular wing in place
of two swept-back wings in the form of an arrowhead.


This illustration previously appeared on the front cover of Part 26.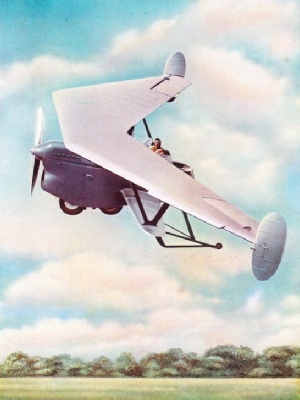 Contents of Part 39


W. B. Rhodes-Moorhouse, VC


The Japanese Air Force


Tricycle Undercarriages


Aviation in India and Burma


The Second "Graf Zeppelin"


Hinkler - The Brilliant Navigator
(Part 1)