Part 30 of

Wonders of World Aviation

was published on Tuesday 27th September 1938, price 7d.


This part included a

colour plate

showing an Avro Anson. This was one of the illustrations in the article on Trainers of the RAF.


The Cover
This week's cover shows one of the gliders competing in the National Gliding Contests held at Dunstable, Bedfordshire, in July 1938. At these contests, on July 9-10, a world record for two-seater gliders was made by Flight Lieut. W. B. Murray and J. S. Sproule, who remained in the air for 22 hours 13 minutes 35 seconds.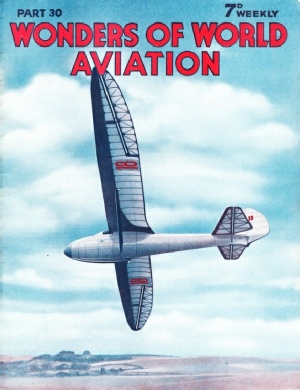 Contents of Part 30


Pioneers of the Parachute

(Part 2)


Jersey Airways


The French Air Force


Experiments with Ornithopters


Famous Flying Partnerships


Trainers of the RAF


The Avro Anson

(colour plate)


The Avro Anson


THE AVRO ANSON is a twin-engined low-wing monoplane used for training pilots who are to go to bomber squadrons and who will fly other twin-engined Service aircraft. It is used also as a Service type for coastal reconnaissance work. Each of the Armstrong Siddeley Cheetah IX radial air-cooled engines develops 310 horse-power at 2,100 revolutions a minute at 6,000 feet. Each engine installation is entirely interdependent, with its own petrol and oil tanks. On top of the fuselage and behind the cabin is the rear gun position which is equipped with an Armstrong Whitworth totally-enclosed rotating gun turret. A Lewis gun is used in this position.


This colour plate previously appeared as the cover design to Part 16.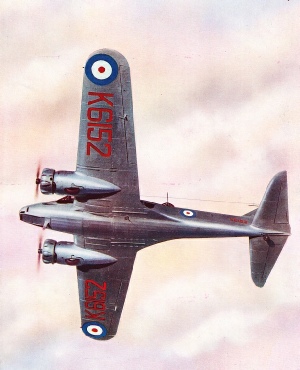 Contents of Part 30


Flying Boats and Their Work

(Part 1)